FREQUENTLY ASKED QUESTIONS
---
Location & Surrounds
Where is the new Mirvac community at Moorebank located?
Moorebank by Mirvac is superbly situated, adjoining the Georges River and close to Mirvac's award-winning community, Brighton Lakes.
Moorebank by Mirvac will enjoy close proximity to the Liverpool CBD, being minutes from the M5 and only 4km from Holsworthy train station.
What amenities surround the community?
There are a large number of schools (both public and private) and childcare centres are located close by. The University of Western Sydney is also conveniently accessible in the Liverpool CBD.
---
Homes at Moorebank by Mirvac
How many homes will there be at Moorebank by Mirvac?
Approx. 180 Mirvac homes will be constructed at Moorebank. These homes will all be turnkey homes.
What does "turnkey" mean in this context?
"Turnkey" means that the home comes complete with carpet, tiling, landscaping, retaining walls, fencing, driveway, rainwater tank, clothesline and letterbox, amongst other inclusions (as applicable to your home/lot).
With your Mirvac home, all fixtures and fittings, site costs and landscaping are included in the price of your home.
What sort of home designs are available?
These architect-designed homes offer a variety of façades, styles and designs – proposed homes range from 3-bedroom terraces and duplexes up to four-bedroom detached homes.
Choose from a range of housing options to suit your budget and lifestyle. All homes are proposed to be double storey, plus there will also be a select range of premium homes boasting a stunning outlook over the Georges River.
Can I make alterations to these designs?
These homes are sold with development approval already granted. External colours of the home have been pre-selected and approved by Council and, as such, they cannot be changed.
Fixtures and fittings, floor coverings and exterior finishes are all pre-selected by our experienced interior design team.
You will have the opportunity to choose your internal colour scheme from a carefully selected range of internal colour schemes. Colour boards showing these internal scheme selections will be available to view in the future Sales and Information Office.
You will also have a range of upgrades for your home available to select. With everything done for you, right down to the landscaping, all you need to do is move in once construction is completed.
What community facilities will be available at Moorebank by Mirvac?
A Community Green will be provided for the exclusive use of Moorebank by Mirvac residents, which is proposed to include a swimming pool, BBQ facilities, undercover picnic tables, a children's playground and also a grassed kickaround area.
---
Purchasing at Moorebank by Mirvac
What is the price guide for these homes?
The pricing of the homes at Moorebank by Mirvac is currently being reviewed. Starting prices will be made available prior to the first sales release.
What is the sales process for the homes at Moorebank by Mirvac?
Your home may be off-the-plan, under construction or may be completed at the time of purchase. By purchasing a Mirvac home, you are able to pay a deposit now and pay nothing more until your home is ready to move into. The sales process is a single contract which covers both land and home. There are no progress payments during the build process.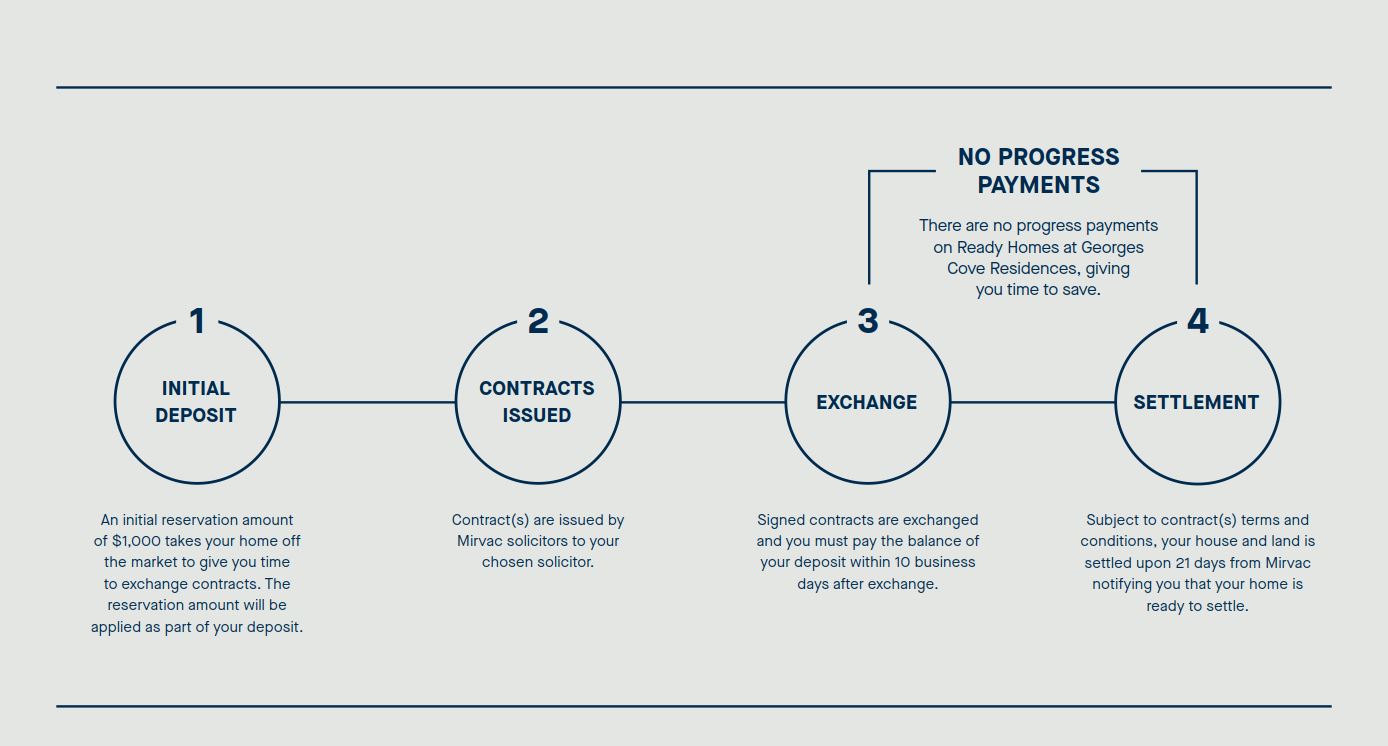 ---